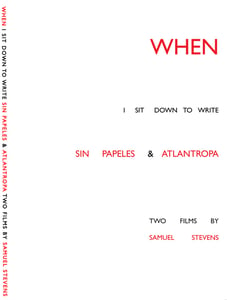 £

5.00
The booklet When I Sit Down To Write, A Case for Political Conscience contains a preface by the artist, source material from the films Sin Papeles (2005) and Atlantropa (2009) by artist Samuel Stevens and an essay by the artist film maker Stephen Connolly.
This booklet was published in a numbered edition of 100 to accompany two film works that explore issues of migration as they manifest in contemporary Spain. Sin Papeles relates the encounter of the artist with a site of migrant resistance - the Santa Maria del Pi Church in Barcelona - host to a hunger strike by migrants in 2001 and the booklet contains reports of the event from the Anarchists' Newsletter and the Workers Solidarity Movement. Stevens' award winning film Atlantropa (2009) presents restricted images of the Ceuta frontier anchored by a voiceover spinning a loose narrative around a fictional bridge - spanning the Gibraltar Straits connecting Europe and North Africa - as the film visually explores the infrastructure of the Spanish-Moroccan frontier. The name Atlantropa comes from an earlier attempt to damn the Gibraltar Straits by the modernist Architect Herman Sörgel. Included in the booklet is an exclusive biographical text on Sörgel and the birth of the Atlantropa project by his first English language biographer, Paul Jacob.
Sam Stevens is a London based English artist. The visual language established in his work presents the audience with critical yet often poetic forms in film, video and still imagery. Individual works focus on and examine recurrent themes such as the politics and visual codes of landscape, borders, migration, and public space.
A code for exclusive online access to the two films is given with the purchase of each book)