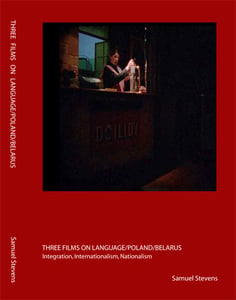 £

15.00
Three Films on Language/Poland/Belarus by Samuel Stevens is a DVD compilation of the three films, Jarmark Europa (2005), Esperi (2005) and Zubr (2006) that originate in a journey undertaken by the artist from Warsaw to the Belarusian National Park headquarters in Kamieniuki, Belarus.
The films focus on a, Vietnamese community of market traders that existed in what was once (but has since been demolished) Europe's largest outdoor market, Jarmark Europa; Esperanto, through an interview with the president of the founding Esperanto society headquarters in Bialystok; the threat of deforestation to Europe's last remaining primeval forest Belovezhskaya Pushcha triggered by the closure of the border between Poland and Belarus and the suppression of the Belarusian language by Lukashenko's government.
The three films have been compiled to DVD five years after their making to accompany the book of the same title that looks at the development of the social and political situations that the films originate in, since the time of shooting. In the preface to the book Stevens' gives personal insight and account into the films and their making and reflects on recent calls by France and Italy to review the Schengen agreement in wake of the refugees created by the Arab Spring and war in Libya. Documents within the publication also include: fragments of debate on Esperanto from the E.U. parliamentary archives; a succession of news reports detailing native language suppression in Belarus; and correspondence between the Polish and Belarusian governments and UNESCO on the management of the Belovezhskaya Pushcha world heritage site.